Avaya E159 Media Station
West Pier supply, install and maintain the Avaya E159 Media Station.
Avaya E159 Media Station
The days of issuing employees company owned laptop computers and cell phones are on the decline so Avaya created the E159 Media Station. Instead, businesses are taking advantage of the proliferation of smartphones and tablets by scrapping their old technological plans and allowing employees to use their own devices for company purposes, and giving those devices access to the company network. The Avaya E159 Media Station supports a mobile workforce by bringing together the capability of a smart device with the power of desktop telephony.
It combines an enterprise SIP desktop telephone, smart device charger, and a Bring Your Own Device docking station in a single instrument. The Avaya E159 Media Station is ideally suited for the needs of any enterprise user with a smart device as their primary communications tool. Users load the Avaya Media Station application to their smart device from Google Play or the Apple App Store, login, and turn their mobile device into an enterprise-grade communications tool while it is being charged.
Business Benefits
The Avaya E159 Media Station brings the following advantages to the business:
A Bring Your Own Device strategy frees the business of user hardware, software, maintenance, and service contract expenses while improving morale. Employees are happier and often work faster when they use the device and technology with which they are most comfortable.
When not in use for docking, the sleek and modern design, and simple to use interface can provide an excellent standalone SIP desk phone with all of the basic call handling features.
Operates as any other SIP endpoint in the enterprise network within the company firewall so that protection of valuable and sensitive data is maintained.
Smartphones and tablets allow employees to input data and respond to client or colleague requests in real time helping to stay one-step ahead of the competition.
Providing users access to the company network from a smart device removes many limitations set by standard work hours, boosting productivity and staff motivation. In particular, flexible work hours foster creativity, speed innovation, and facilitate teamwork and collaboration.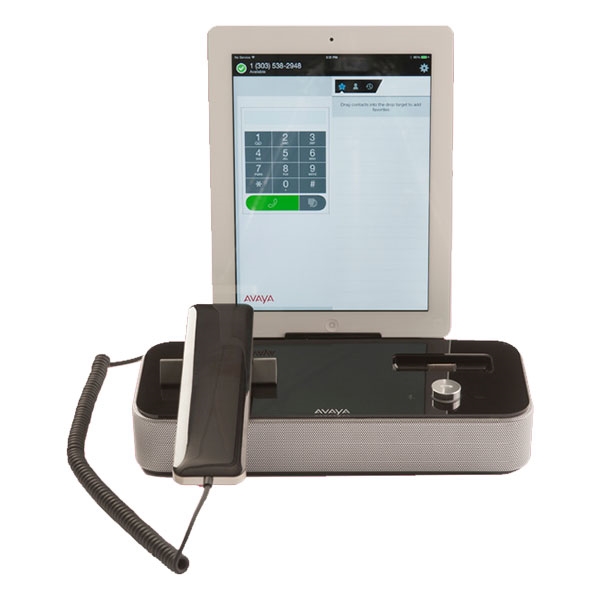 Features
Features of the Avaya E159 Media Station include:
Support for the most popular tablets and smartphones running iOS and Android operating systems.
User access to existing IP Office Platform mobile and video applications on the smart device while in docked mode and to the most used telephony features including attended or blind Transfer, Forward, Hold, Call Waiting, Mute, and three-way Conference.
Bluetooth media station control from the smart device.
Wired handset or hands free speaker use while on cellular calls.
Message Waiting Indicator and voicemail access button on the media station.
Please see below for links to other desk phones and handsets:
If you would like to discuss the Avaya E159 Media Station or have any questions please call us on 0344 264 5522 or please email us.
West Pier Telecom is the UK's only Avaya partner to have had their customer service officially recognised by Avaya 4 years running. We provide award winning business telephone systems, networking and communication solutions, support and consultancy services.
Unify all your communications. Access on any device.
West Pier is fully accredited with ISO 9001:2015
Certificate No 10570